Ok...Catch up time...
It has been a while since I updated this place with anything that vaguely resembled a proper post. To spare a long ramble, I'll update you all on my life over the past year in bullet points


So if you are interested in any way, shape or form...grab yourselves a

and read on...
* I moved house in Feb last year. After living on my own for 12 years, I decided that if I was going to turn DBF into DH in May, then we at least needed to live together. The first move was to go to live with him. It wasn't that easy...try squeezing a three story terraced house into an already furnished 3 bed semi! However, bun and I managed and thus began the start of a new chapter in my life.
* I got married in May last year to possibly the sweetest man I know. How on earth he puts up with me I have no idea.

We married in a lovely hotel on the edge of Lake Windermere and I fulfilled my all time claim that I'd get married in either black or purple. I chose the latter and DH wore a very nice purple shirt and tie to co ordinate. We did choose black and white as the colours of the decorations though, which I made all by myself. If I say so myself, they turned out well and a fab day was had by all. We hired a boat to take the guests (40) for an hours cruise on Windermere on what was the hottest day of the year to that date. Our photos look like we are in Greece or some other hot European place! We didn't have a professional photographer as I don't like having my photo taken and didn't think it was worth paying a lot of money when I don't photograph that well anyway. However, lots of photos were taken and here are a few just to highlight my dress and the weather.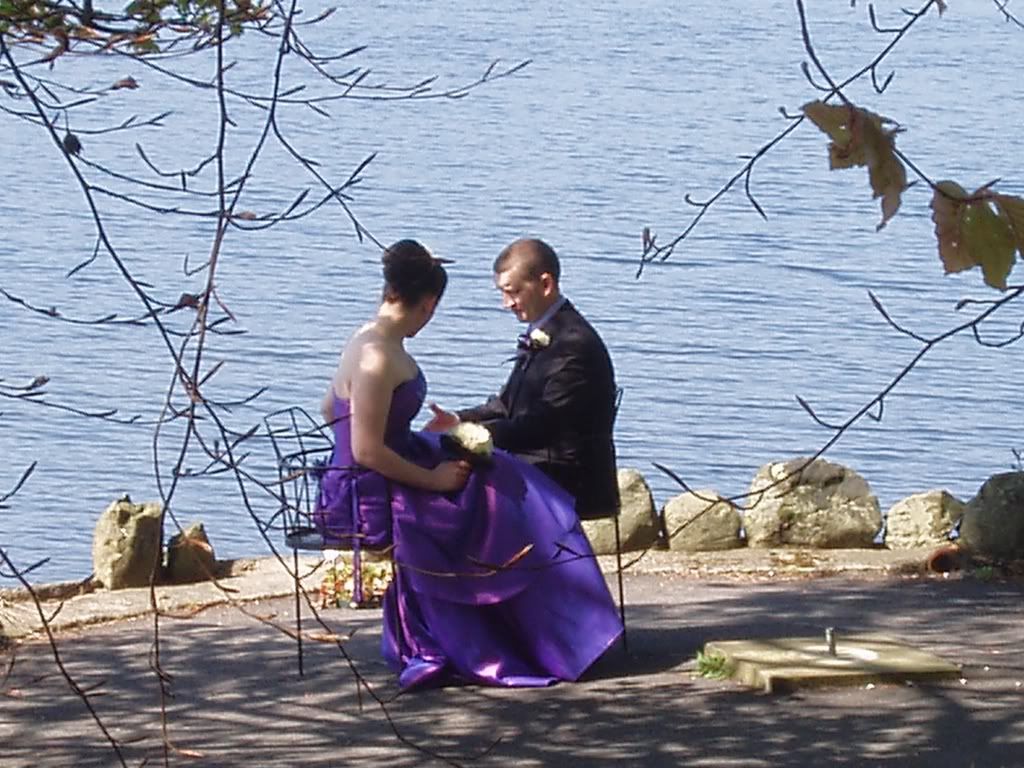 I love how this is slightly off focus and caught us when we weren't looking.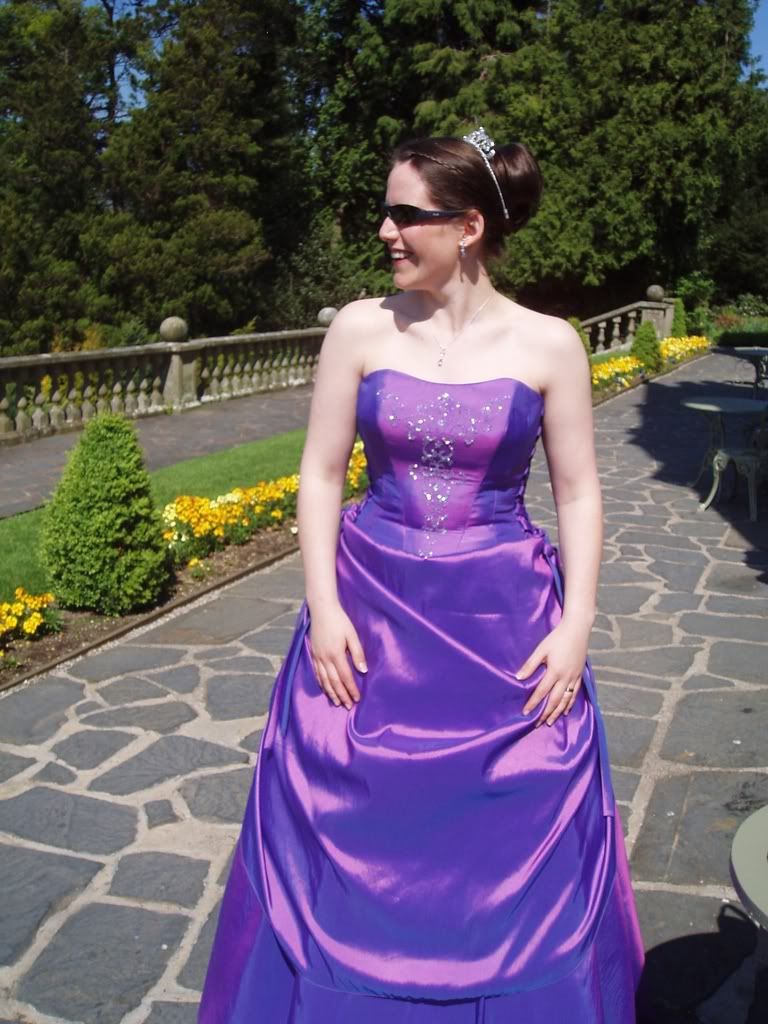 Not a very flattering pic of my waist/stomach but at least it shows the bead detail on the front.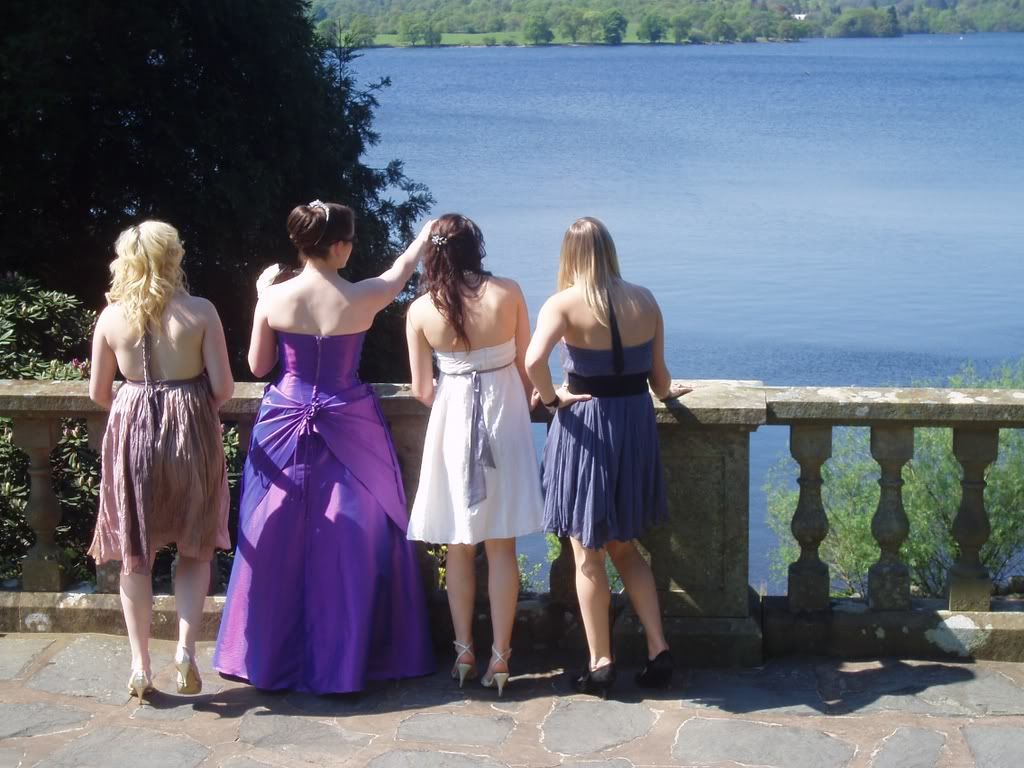 This one shows the detailing on the back of the dress. I ordered this unseen as I'd seen a pic on a website, found a local stockist and went for it. Although I'm not happy with how I looked (too much weight on me), I was delighted with the dress.
I wore some boots with it, like the ones Beatrix Potter wore in Miss Potter. I thought it fitting for the location


* That was May...I then moved again in July. This time to a 'new to us' house. It has a fantastic established garden which bunny adores and is close to work for us both. As it's a four bed detached with two en-suites, it was also a lot more roomy than DH's house was. We now have a his and hers en-suite and it's bliss!
* In October we went on hols and whilst there I decided to go back to the hairdressers that did my wedding day hair and went from this...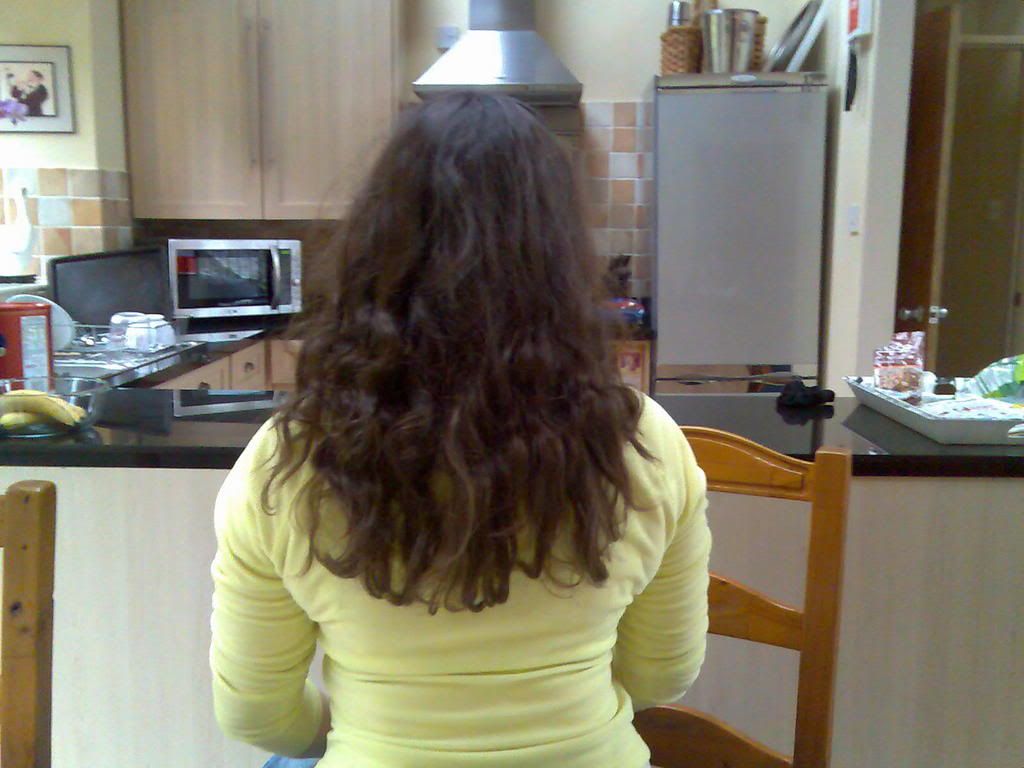 to this...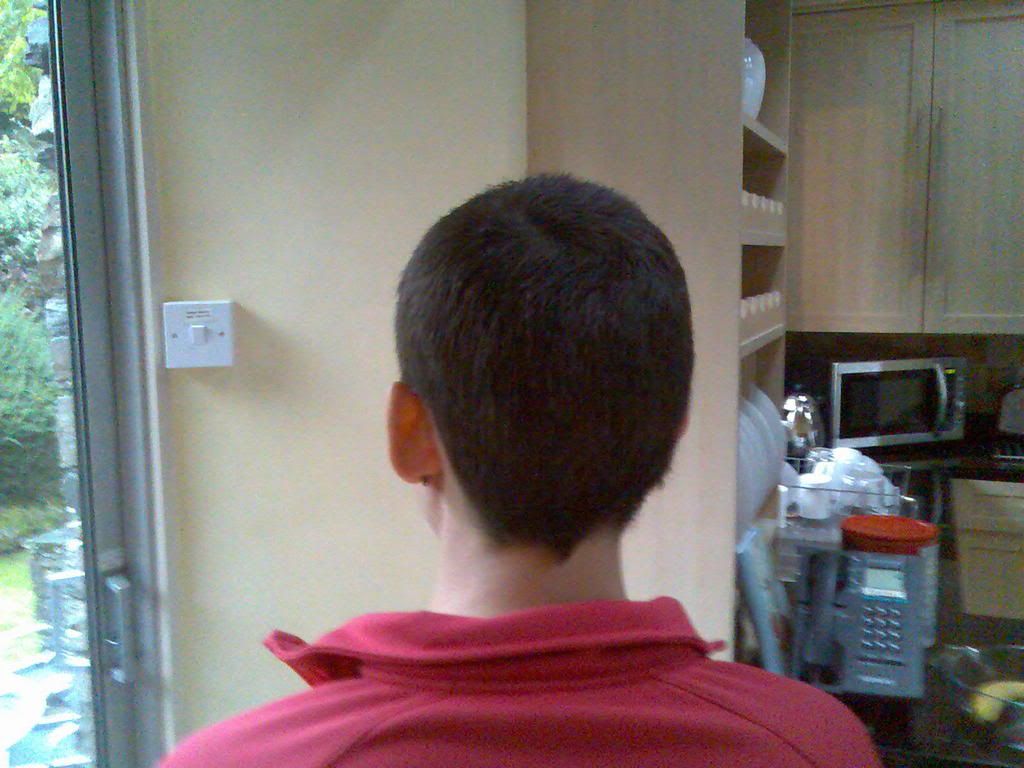 A little bit drastic you say? Well the gory details are that it was a Grade 4. It grew fairly quickly and I had it cut back to a Grade 5 by December and since then have left it alone. It's now a shaggy, wavy mess that just touches the tops of my shoulders.
* Throughout the year we went on a few hols to the Lakes, my foot wasn't getting any better and my lack of exercise other than the odd walk was proving to be a problem. In the Oct my best walking trousers were tight, by December tighter and in Feb I couldn't get them on.

* In March this year I had a camera inserted into my foot and had it all washed out. There had been little bits of bone fragments left over from the break that were obviously causing me pain, but weren't significant to show up on x-ray. Also, the underside of my ankle bone was all rough so that was filed smooth and thankfully the exploration of the nerves revealed they were all intact. This was good news and meant I'd be able to recover finally from my break in 2005. What wasn't great was the amount of weight I piled on whilst recouperating.

* May this year and after a wonderful year we celebrated our Anniversary with a trip to the Lakes. I still couldn't walk too far and ate too many cakes, so when I got back and got weighed and saw I'd reached an all time high of 12st4lbs...

I decided I needed to do something about it.
*I'd bought a WiiFit to help with balance exercises for my foot, and slowly started to do the aerobic exercises on it too. I then joined Tesco Online Diets on 9th May. I soon realised that besides the bit of snacking on junk I'd done at the beginning of May, I actually wasn't eating enough food. I guess this slowed down my already 'Under Active Thyroid Slothlike' metabolism to the point where it wasn't burning any fat off.
*My fitness improved and in July was able to start running and doing a lot of exercise. I bought some Nell McAndrew DVDs which are 'Way' hard as well as a great Karen Voight DVD that uses a yoga roller. That combined with my old Cindy Crawford DVDs and eating more food than I can shake a stick at, to this date I have gone from 12st4lbs to 10st6lbs. I've lost 3" off my hips and the same off my waist and can once again fit into some of my nice old clothes. I actually didn't realise just how frumpy I'd been dressing....mainly fleeces and slouchy pants. I can now wear fitted tops, vest and jeans again.
*So...if you've made it this far...well done

. I will update my blog with bunny and stitching news later on. As you can imagine, I have had a few finishes in the time since I last posted! I think that's it for now folks...I'll hopefully remember to update things more often. Til then...take care and take it easy.....